Almost six weeks on, there is "no change" in Jules Bianchi's condition.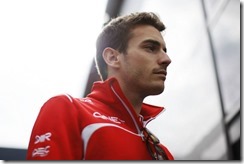 That is the news of Graeme Lowdon, who as sporting director and president has overseen not only the aftermath of Frenchman Bianchi's horror Suzuka crash, but also the closure of the struggling Marussia team. Although sounding upbeat that there may be light at the end of the tunnel for the stricken Banbury-based team, Lowdon has less to report on the condition of 25-year-old Bianchi, who remains in a coma in Japan. "There's no change in his condition," Lowdon told Britain's Sky. "He's still stable but critical, and I think the thoughts of everyone in the team and also his very wide fan base are with Jules at the moment," he added.
It has also been a poignant and sad week for the family, friends and fans of the F1 legend Michael Schumacher, as the 20th anniversary of his first title triumph in 1994 came and went. The prominent German entertainment 'Bambi' awards marked the occasion on Thursday by presenting a trophy to Schumacher's manager Sabine Kehm.
Also present was the great German's rival David Coulthard, his former teammate Nico Rosberg, his friend Ross Brawn and protege Sebastian Vettel. "Michael, you were my idol," the reigning world champion said in a moving speech. "My room was covered in your posters, but today I am embarrassed that hanging next to you was Britney Spears in a mini skirt," Vettel smiled.
Schumacher's current health condition was not mentioned during the ceremony, but as his official website was relaunched this week, an official posting said the family is "confident" for the future. "Your strength is helping us keep supporting him," the message from his family adds. Briton Brawn, a former Ferrari and Mercedes colleague and one of Schumacher's closest friends, said at the Bambi awards: "He is now fighting a new battle, and he will insist upon doing it his own way."