Toto Wolff on Saturday played down suggestions the tension between Mercedes' drivers could be set to reignite.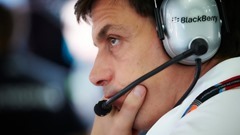 During qualifying at Sepang, Lewis Hamilton was momentarily delayed when he had to pass his slow-moving teammate on the inside of a corner. Reportedly, the reigning world champion complained afterwards on the radio. On British television BBC, former driver David Coulthard agreed that Nico Rosberg's move was "naughty".
But when asked whether the incident was a big deal, Hamilton told reporters afterwards: "I can't really remember it, so obviously not."
Speaking with the German broadcaster Sky, team boss Wolff also played it down. "He (Nico Rosberg) went to the left, so away from the ideal line so I don't think it was a problem," he said. "No, the question is whether the racing line is the right line or not in the rain, but it's alright, he (Hamilton) is on pole, you cannot ask for more," Wolff added.