McLaren-Honda's all-champion driver lineup is putting a brave face on its situation.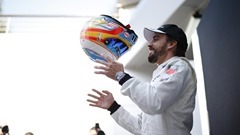 As in Australia, the two MP4-30s were due to line up dead last on the grid in Malaysia. The only cars slower around Sepang are the Manors, who were outside the minimum 107 per cent qualifying time. Those cars would only race "at the stewards' discretion", read a report at F1's official website.
Roberto Merhi, however, was confident the FIA would be on the former Marussia team's side. "We were only outside the 107pc because of problems with the car. "Our best times this weekend were within 107pc," the Spaniard argued, "so there should be no problem even though it will be difficult to be in the rain for my first race in F1."
Indeed, the FIA duly confirmed that both Will Stevens and Merhi will race on Sunday, saving McLaren the ignominy of lining up on the grid dead last. The McLaren duo has, however, been unusually upbeat this weekend, even though the new works collaboration with Honda appears to be floundering at present. "We are struggling," acknowledged Fernando Alonso, who qualified behind his teammate Button, "but the progress with the car has been fantastic since Australia." Button agreed that the step since Melbourne has been "massive".
Alonso added: "I knew it would be tough but we were much further behind in Australia. If we continue like this," he joked, "within three or four races we will be on pole." The Spaniard might be forgiven, however, for already regretting his decision to leave Ferrari just as the Italian team appears to be coming good.
In wet and dry conditions, Sebastian Vettel has been quick throughout at Sepang, and on Saturday managed to split the two Mercedes cars for the grid. "It would be nice to give them a hard time," said the German after qualifying, when asked if he might also be able to challenge Lewis Hamilton and Nico Rosberg in the race. "It's been too chilled for them (Mercedes) for a while," Vettel smiled.
Alonso, however, insists he has no regrets about joining McLaren-Honda, arguing that he gave his own tenure in red five full years to succeed. "I have a tough challenge ahead of me," he said, "but it's going to taste better when we do it. "In my career I have experienced some beautiful moments, with Ferrari it was a fantastic experience but five (years) was enough — I didn't want it to be seven years in second or third, even if I need to take some risk (at McLaren-Honda) for this first year," added Alonso.