Ross Brawn on Wednesday added his own denial to reports he has decided to leave Mercedes at the end of the season.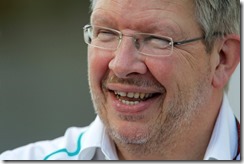 Chairman Niki Lauda has already played down the reports, saying he is in negotiations with 58-year-old team boss Brawn, who he would like to keep at Brackley. But the big rumour is that Brawn has decided to leave because his obvious successor at Mercedes is Paddy Lowe. Brawn is being linked with a move to 2015 McLaren engine supplier Honda, but the Japanese carmaker's motor racing boss Yasuhisa Arai on Wednesday denied that. "I've never heard of that and it is a surprise," he told British broadcaster Sky. "I don't think it will happen," said Arai.
Brawn added his own denial on Wednesday. "The situation is the same as it has been for the last few weeks," he told Germany's Auto Motor und Sport. "I am still talking to Niki about my role in the team." He was even more strident when asked about McLaren and Honda. "I have not spoken a word with Honda or McLaren," said Brawn. "My decision can wait until the winter. "I'm not someone who makes a decision overnight. Should I look elsewhere, I would think about it very hard and consider the options carefully. "It takes time," he insisted.
Auto Motor und Sport said Brawn, a keen salmon and trout fisherman, has not even ruled out taking a sabbatical. "It would not be the first time," he smiled.
Info: GMM, Image: Mercedes GP