Ross Brawn has threatened to leave Mercedes if he is not assured his job as team boss is safe.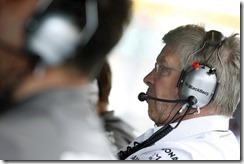 After denying he has already decided to quit, but confirmed talks are taking place, Brawn made clear on Sunday he will only stay beyond 2013 if Mercedes agrees he will have a clear role at the very top of the Brackley based team. "I think we need a very clear definition of who is in charge and obviously I need the motivation to carry on," the 58-year-old Briton said at Suzuka. "Any successful F1 team has to have a senior reference and that's the big question. We need to make sure if I'm to remain here that I'm the reference," Brawn told the British broadcaster Sky.
Amid rumours Brawn could be looking in McLaren and Honda's direction, he also left the door open to switching teams. Asked if he would walk away from the sport if Mercedes doesn't give him the answer he wants, Brawn responded: "Not necessarily walk away from the sport."
Brawn's comments tie in with the latest rumblings from within McLaren, where the British team has said it will not stop after signing Red Bull's aerodynamics chief Peter Prodromou. "This (signing) is not something isolated," managing director Jonathan Neale is quoted by Brazil's Totalrace. "There are other things we are going to do to strengthen the team. "It's a series of things aimed at 2015 and Honda, to ensure we are on the road to victory," he added.
On the driver front, McLaren has signed – but not officially confirmed – Jenson Button for 2014, but the future of his teammate Sergio Perez remains unclear. The Mexican's case was not strengthened at Suzuka, where he crashed heavily in practice and then earned a rebuke from Nico Rosberg after the race. "It's not good what he's doing, we know he has issues," Mercedes' Rosberg fumed after their run-in.
Info: GMM, Image: Mercedes