Jenson Button insists he is not even contemplating life after Formula One despite uncertainty around his future at McLaren as he intends to keep racing in the championship for years to come.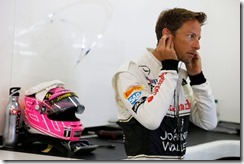 Button's McLaren contract will expire at the end of the year and team is remaining tight-lipped on its 2015 driver line-up. Despite this Button, 34, the most experienced driver on the current grid, intends to remain in the sport for the foreseeable future.
"Right now my interest is to race in Formula One," Button said. "You have tough days and it hurts like hell because I want to be competitive and I want to be fighting but then you have a reasonable qualifying and you're back on track and want to race forever."
McLaren has struggled to be competitive since the start of 2013, a period of time which has seen Button on the podium just once. Button, who only won one race before his championship year in 2009, says his current situation is just part of what makes the sport so appealing to him.
"In Formula One the emotions are all over the place, they really are. It's highs, it's lows, there's never anything in the middle. I've lived my life like that for a long time and I want to continue living my life like that – hopefully with more highs than lows – but I'm young, I'm fit and I'm enjoying what I do for a living so there's definitely no reason to want to change."
Info: ESPN Sports, Image: McLaren