Kamui Kobayashi's job at Caterham appears even more tenuous after boss Manfredi Ravetto rebuked the Japanese's comments after the Russian grand prix.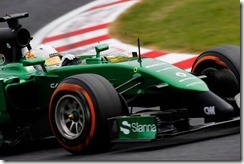 After the struggling team's new owners and management took over, Kobayashi lost his race seat at Spa-Francorchamps in August. But although apparently wanting to give Roberto Merhi the place, the Spanish rookie did not initially secure his mandatory super license, and so the unsponsored Kobayashi, 28, has returned to his race seat for now.
Kobayashi, however, cast fresh doubt on his immediate future after retiring at Sochi, claiming there was in fact "Nothing wrong with the car". "We have a lot of mileage limitation to avoid things going wrong with the parts. This is why I got the message from top management," he explained.
Caterham immediately denied Kobayashi's claim, insisting telemetry showed that his brakes were overheating. Now, several days later, team boss Ravetto has revealed his disappointment with Kobayashi's comments. "I was very surprised to hear Kamui referring to some mileage-saving instruction coming from the team's management," he said in an interview posted on Caterham's official website on Wednesday. "We saw via telemetry that there was a potential issue with the brakes and we decided to avoid any risks — Kamui officially confirmed this as well and I'd like to add that he had also asked us to change the previous set before qualifying because he felt some vibration."
Ravetto's comments come amid intense speculation Caterham could be the first of the sport's most financially struggling teams to collapse ahead of the 2015 season. He continued: "Regarding Kamui's comment, all I can say – and again, I'm answering with facts – is that the team has continuously made progress since the British grand prix, we've managed to qualify very well in the last two races, getting very close to Q2, and in Suzuka we repaired Kamui's heavily damaged car in time for the next session without any problems, so I cannot understand his comment."