F1's grid may have shrunk to just 18 cars by the time of the US grand prix next weekend.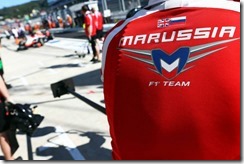 Caterham's troubles – with administrators locking the green cars inside the Leafield factory amid an unseemly spat with former owner Tony Fernandes – are now well documented. But authoritative publications are now claiming that the similarly struggling backmarker Marussia, rocked recently by Jules Bianchi's life-threatening Suzuka crash, is also in danger of having its engines silenced.
Michael Schmidt, the highly respected correspondent for Germany's Auto Motor und Sport, claims the team has been living "hand to mouth" since August's Belgian grand prix, where Max Chilton almost sat out the race due to "contractual issues". "We have now learned that another cash injection is required so that the team can make the trip to Austin and Sao Paulo," Schmidt said. "This is happening while the owner Andrey Cheglakov wants to sell."
Russia's Championat and Germany's Auto Bild are reporting similarly, adding that a deadline is looming for Marussia to make overdue payments to engine supplier Ferrari. And Italian reports suggest that Ferrari has already ceased to supply technical and installation information about the customer engine for 2015. Writing in Switzerland's Blick, veteran journalist Roger Benoit agreed that the situation at Caterham and Marussia could mean only 18 cars line up on the Austin grid.