Paul di Resta's hopes of returning to formula one depend on him securing a key role in 2014.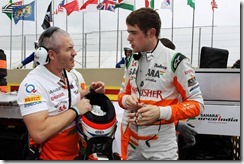 That is the claim of Scottish countryman and former grand prix winner David Coulthard. Having lost his Force India seat after three consecutive seasons in F1, 27-year-old di Resta has returned to the scene of his 2010 title win driving for Mercedes in the German touring car series DTM. It is believed the DTM role could involve di Resta becoming the German squad's new F1 reserve driver. "Mercedes are well aware that (F1) is where I want to be, and I have their full support," he said in January. "We'll see how it goes, but at the moment there is nothing."
Former McLaren and Red Bull driver Coulthard, now a commentator for British television, believes Mercedes' Toto Wolff is wise enough to give di Resta a key F1 role in 2014. "He (Wolff) knows Paul and brought him in because he knows he can do a job for Mercedes," Coulthard told The Scotsman newspaper. "The F1 test-reserve role would be a big chance for Paul. I hope he gets that opportunity. "If he doesn't, it might be difficult to find his way back into F1, simply because of the political and financial nature of the business," he added.
Info: GMM, Image: Force India