It's being murmured rather than shouted, but the world of F1 is undoubtedly worried about the looming Russian grand prix.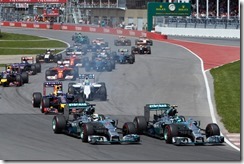 The sport, scheduled to fly into Sochi for the very first time in October, has been quietly rocked by the news of the MH17 crash, after the Malaysia Airlines flight was shot down by reportedly pro-Moscow rebels amid the Ukraine conflict. "Our thoughts are with the families at this tough time," Lotus driver Pastor Maldonado is quoted by the Spanish sports daily Marca. "It's not the time to talk about the Russian grand prix."
That is perhaps true when it comes to the public record, but behind the scenes, the issue is a major one for a global sport like formula one. The route from Amsterdam to Kuala Lumpur is familiar to many F1 figures, and Marca said Fernando Alonso has regularly flown with Malaysia Airlines.
Given the Crimean crisis, many F1 media regulars were already planning to skip Russia long before the Ukraine air disaster that claimed almost 300 lives. "I decided a few months ago that I am not going to Sochi," an Italian journalist confirmed at Hockenheim. But Caterham race driver Kamui Kobayashi insisted: "There is plenty of time before we go to Russia, and I think everything will calm down by then. "I think it will go smoothly," said the Japanese.
Image: Mercedes GP