So far in this Formula 1 season, Ferrari have been struggling for qualifying and race pace, and this is set to be the case in Bahrain as well.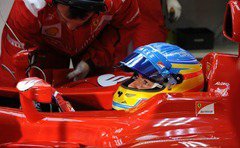 Fernando Alonso warned everybody that Ferrari will not improve for Bahrain and the weaknesses shown in China will be carried over to this weekend race. The Spaniard who qualified ninth for the Chinese Grand Prix was in a relatively good position for rounding up some more points for the team but a late slump saw him losing positions and fall back to 9th place at 37s behind the winner Nico Rosberg.
Alonso commented after the Chinese Grand Prix: "We knew this would be a difficult race and that's how it turned out".
"Obviously, this does not leave me very optimistic for Bahrain, on a track where traction and speed are vital, exactly the areas where we are weakest. Once again this weekend will be about damage limitation. I don't want to think of the classification because the priority is to improve the performance of F2012."
Stefano Domenicali also admitted in an interview that this will be the case in Bahrain for Ferrari  as well as trying to improve the tyre performance for the car.
Info: Ferrari