F1 is set to allow two new teams through the paddock turnstiles for 2015.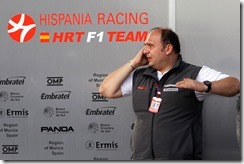 Days ago, the sport's chief executive said the bid made by Nascar team co-owner Gene Haas to enter F1 next year has been successful. "I think Haas will be accepted," he said last week. Now in Bahrain, the 83-year-old Briton said a second team has also been approved. Zoran Stefanovich, chief of the failed Stefan GP outfit, has already confirmed he has withdrawn his application after failing to agree a 2015 engine deal. So the second new 2015 team must be the former HRT chief, Colin Kolles, who according to Germany's Auto Motor und Sport has the backing of wealthy Monaco-based Romanians.
Ecclestone said on Sunday: "They (Haas) will be accepted, and we've also accepted another team as well, although whether they'll make it or not is another story. "But we are happy to have another couple of teams. I've spoken to (FIA president) Jean Todt and we agreed." Meanwhile, Ecclestone also told reporters in Bahrain he is confident some rule changes will be rushed through to appease fans who are unhappy with the 'new' face of F1. It appears the major changes under consideration are a relaxing of the engine 'freeze' rules – so that struggling Renault and Ferrari can catch up – and an extra 10kg of fuel for each car per race to end the 'economy runs'.
But total unanimity is required, and dominant Mercedes' Toto Wolff on Saturday said the prospect of mid-season rule changes is "absurd". "Mercedes are going to be behind it. I think they'll be the leaders," Ecclestone said. "We can do things without them particularly losing their advantage," he added. "Without any doubt they have done a better job and they shouldn't be punished for that."
Ferrari president Luca di Montezemolo, causing a stir in the paddock on Sunday with a rare appearance ahead of his talks with Ecclestone and Todt, is clearly pushing for changes. But he also said he respects Mercedes' position at the front of the pack. "It doesn't mean we have to change (rules) now," said the Italian, "but we need to look ahead. "I think not changing the rules for the short time is possible to do. I understand Mercedes' position, but for me formula one is more important so we have to have common goals."