F1's governing body has formed an 'accident panel' in the wake of Jules Bianchi's life threatening crash.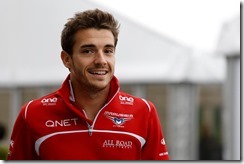 The news, confirmed in a letter from the FIA to "all F1 teams" this week, follows Marussia angrily hitting back at media reports the team and its French driver were to blame for Bianchi's crash into a recovery vehicle at Suzuka 11 days ago. The FIA letter asked teams to forward to the Paris federation "any information which you may have regarding the circumstances of this accident, and to keep all documents, testimonies and any pertinent information which may be of interest to the accident panel".
The publication that revealed the disputed and highly controversial information about Bianchi's crash was Germany's Sport Bild, claiming Marussia told the now critically ill Frenchman to speed up to keep Caterham's Marcus Ericsson behind him in the moments before the crash.
Marussia also strenuously denied claims Bianchi did not slow down for the yellow flags. But in the wake of the team's angry denials, Sport Bild has published even more new information. It claims Bianchi went through the high-speed Dunlop corner at 217kph on the lap before he crashed. Next time around, he was reportedly recorded at 212kph. The information is reportedly based on an official FIA document.
When asked about the document's existence, FIA spokesman Matteo Bonciani told Germany's Sport1 that "all relevant information about Jules Bianchi's accident was reported by race director Charlie Whiting at Suzuka." He also would not confirm the existence of the radio messages from Marussia to Bianchi, as originally alleged by Sport Bild. "This (not commenting on speculation) is a principle of the FIA — especially in the case of Bianchi," Bonciani insisted.