Former F1 driver Patrick Tambay has hit out at the FIA for so squarely blaming Jules Bianchi for his life-threatening Suzuka crash.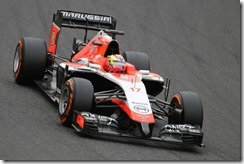 At Wednesday's meeting of the World Motor Sport Council in Qatar, the 10-man panel charged with investigating the October accident handed down an almost 400-page report. Signed off by the likes of Ross Brawn, Stefano Domenicali and Emerson Fittipaldi, they found that although water was running across the Japanese grand prix track, Bianchi "did not slow sufficiently to avoid losing control". The report said FIA procedures were all followed, including the waving of double yellow flags, but Frenchman Bianchi "over-controlled the oversteering car".
Not only that, the 25-year-old driver, who has not regained consciousness since striking the underside of the vehicle recovery tractor two months ago at 126kph, "applied both throttle and brake together" as he skidded towards it, the panel revealed. This should have overridden the throttle and cut the engine, but the brake-by-wire system aboard his Marussia "proved to be incompatible with the FailSafe settings". "The fact that the FailSafe did not disqualify the engine torque requested by the driver may have affected the impact velocity", the panel's report added.
It said Bianchi may have been "distracted by what was happening and the fact that his front wheels had locked, and been unable to steer the car such that it missed the crane". The panel also declared that because Bianchi's helmet hit the underside of the tractor with such enormous force, it "is not feasible to mitigate the injuries Bianchi suffered by either enclosing the driver's cockpit, or fitting skirts to the crane".
Some recommendations were, however, passed on to the FIA, such as the imposing of speed limits for yellow flag zones, and ensuring that races do not begin less than four hours before sunset. "It is also recommended that the F1 calendar is reviewed in order to avoid, where possible, races taking place during local rainy seasons," the panel added.
Notwithstanding that, Frenchman and former Ferrari driver Patrick Tambay said the report left the overwhelming feeling that Bianchi was squarely blamed for his own crash. The 65-year-old said the FIA had declared: "'We wash our hands'. "I think it's a shame to accuse the driver — there must be interests of insurance or things like that," Tambay told RMC Sport. "It is a judgment to exonerate responsibilities, but I think it's a little bit too hard to just blame the driver," he charged.