Team boss Christian Horner is not ruling out more fuel-flow controversy for the next two race weekends in Malaysia and Bahrain.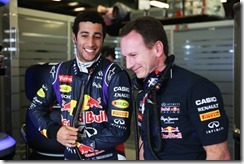 Red Bull's appeal against the Daniel Ricciardo disqualification in Melbourne will not be heard by the FIA until after the forthcoming double-header. Until then, Horner said on Wednesday that the reigning world champions are convinced they did nothing wrong in Australia by ignoring Charlie Whiting's advice and following the actual technical regulations to the letter.
The Telegraph also quoted him as questioning the behaviour of other teams, who are buying "hundreds" of the FIA-approved fuel sensors and choosing only to use the ones that allow the best performance. "Whether there will be further arguments over the course of the next two weekends in Malaysia and Bahrain, ahead of the appeal hearing, remains to be seen," Horner told the British broadcaster Sky. "Hopefully we'll have a sensor that works … that there isn't a discrepancy. "If there is a variance then it's something we will probably have to discuss with the FIA, and we probably won't be alone in that position," he added.