Romain Grosjean has followed Sebastian Vettel's lead in jumping the gun on his 2015 plans.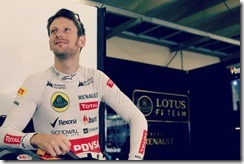 This week, it has already emerged that although Vettel's switch from Red Bull to Ferrari is not yet official, the German told Italian broadcaster Sky in a television feature in Brazil that he is "a driver for Scuderia Ferrari". The Italian team, however, is not yet ready to announce either Vettel's arrival, or even the departure of the apparently McLaren-bound Fernando Alonso. "Neither I or anyone else (at Ferrari) have talked about it," new Ferrari president Sergio Marchionne was quoted this week by Italy's Corriere dello Sport. "I haven't said that Alonso is going," he insisted.
Another open secret in F1 circles is that, despite his earlier candidature to join McLaren-Honda next year, Frenchman Grosjean is now set to stay at Lotus. In fact, he announced via Facebook and Twitter on Wednesday that he is "proud to announce that I'll be racing with Lotus in 2015". The announcement accompanied a graphic captioned with 'Together in 2015', but the social media postings were quickly deleted and a Lotus spokesperson said a "miscommunication" had occurred.
Interestingly, Grosjean's new deal could even be related to fellow Frenchman Jean-Eric Vergne's chances of staying with the second Red Bull team Toro Rosso in 2015. Grosjean is strongly backed by the French oil company Total, but with Lotus' new engine deal Mercedes comes Petronas-supplied lubricants and oils.
According to Speed Week, Total could be heading to Toro Rosso, whose own oil backer Cepsa looks set to leave F1 altogether in order to sponsor the top Spanish football team Real Madrid. Speed Week reports that Cepsa, a Spanish company, decided to leave Toro Rosso due to disappointing results and the decision to sign the unprecedentedly-young and inexperienced rookie Max Verstappen over the better-prepared Spaniard Carlos Sainz jr.
In other F1 sponsor news, a European Union-backed public health group has written to Jean Todt and Bernie Ecclestone demanding that alcohol sponsorship be banned. "A ban is only a step away," wrote Times correspondent Kevin Eason, claiming lucrative deals enjoyed by Force India, Williams and McLaren are now at risk. Eurocare secretary-general Mariann Skar confirmed: "Allowing alcohol sponsorship in formula one seems to contradict many official guidelines for the marketing of alcohol and runs against the EU directive, which states that marketing for the consumption of alcohol should not be linked to driving."