Lewis Hamilton has hit reverse, after losing his temper two weeks ago in Monaco.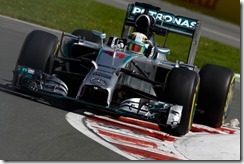 The 2008 world champion's reaction to the Mirabeau qualifying affair, after suggesting his teammate Nico Rosberg had sabotaged his run at pole position, was roundly criticised. Kevin Eason, the correspondent for The Times newspaper, said Hamilton was "on a fine line between tantrum and triumph", even after the 29-year-old issued a 'tweet' last week that announced he and German Rosberg are still friends. So Hamilton has continued to back-paddle. The Telegraph's Daniel Johnson wrote from Montreal: "Hamilton appeared to realise last night that his reaction to qualifying in Monaco had been too emotional, too hasty."
Indeed, the Mercedes driver admitted to British journalists ahead of the Canadian grand prix that he probably should have reacted differently to defeat in Monaco. "The majority of the things I said that weekend were in the heat of the moment," said Hamilton. "There was perhaps a negative tone that was taken from just one weekend but at the end of the day I don't like losing. "In the light of the way you guys (reporters) wrote stories I perhaps would," he added, when asked if he should have behaved differently. And in a BBC column linked from his official Facebook page, Hamilton's 'mea culpa' went on, as he recalls realising he was in the middle of "a mother of a situation". "For the first time in a while, I was on the back foot," he added, at the same time insisting that his rivalry with Rosberg "has been overblown". "In these moments, in the heat and noise of the battle, you can forget the bigger picture and with me I always feel better after I've slept on it," said Hamilton. "The immediate emotions start to subside, a sense of rationality taps on my shoulder and I realise that it wasn't the end of the world as I thought it had been. I still had Canada and the rest of the season to look forward to," he added.
On the other side, championship leader Rosberg is playing the ice-cool counterpart, telling reporters in Canada that "In general, I try to err towards the rational side", and insisting he is taking a deliberately "disciplined" approach to 2014. Told by The Times that Hamilton has admitted he was wrong in Monaco, Rosberg added: "Good to hear it. "I was surprised by what happened. I was massively excited and happy to share Monaco with the team, but of course I did notice the situation," he added. Mercedes' utter dominance at the moment is giving the team's management the freedom to simply let the rivalry run its course, as a silver-clad driver will almost certainly win the title come late November. "I'm not going to spend any time managing the relationships between the drivers in a direct manner," team boss Paddy Lowe told British radio 5 Live. "That's something they really need to work out between themselves," he added. "It's not a school playground."
Team chairman Niki Lauda agreed that Hamilton and Rosberg are smart enough to self-regulate the situation to their own benefit. "If they continue to fight a millimetre apart, eventually there will be a crash," the triple world champion is quoted by Germany's Auto Motor und Sport. "What happens if one of them can continue but the other cannot? That's 25 points gone," he said. "Until Monaco it was hard to keep them under control, but in Monaco it got out of hand," Lauda acknowledged. "Now we are back on top it."
Image: Mercedes GP