Alonso took yet another podium in the Monaco Grand Prix this Sunday, his second successive top-three finish, confirming that Ferrari is slowly moving back to the top of the field.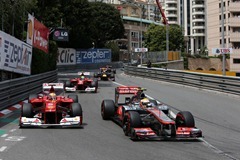 Because he managed to finish ahead of Vettel and Hamilton, Alonso is now the sole leader in the driver's championship with a 3 points advantage over Sebastian Vettel and Monaco grand prix winner Mark Webber.
Although there is still a long way to go in this year's title race, Hamilton reckons Alonso could be the one to beat.
"He is the dark horse and he's driving for the dark horse" told Lewis to The Telegraph. "I'm not surprised. He is a two-time World Champion and probably the best driver here."
Hamilton's comments come on the wake of Alonso's own praise of the McLaren driver, who he believes is the favourite to take this year's title.
"We are looking to November and it is Hamilton we want to be close to. It is impossible to predict how the season will evolve, but I would hardly believe it will stay like this.

"Still, if i can tip one driver, I would pick him because he's the only one who can make a difference even with a car that is not a winner." told Alonso to the BBC.
Source: Live Sports 24, Image: Vodafone McLaren Mercedes