Heikki Kovalainen has tipped Fernando Alonso to win the topsy-turvy 2012 championship.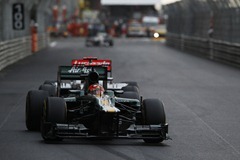 Alonso is just one of the six race winners after the opening six races of the season, but despite a difficult start for Ferrari the Spaniard is now leading the drivers' standings by 3 points.
"Alonso's lead … yes, he will take the championship this year," Finnish newspaper Turun Sanomat quoted Caterham driver Kovalainen as saying. "Whatever the special circumstances or the weather conditions, there is always a common variable, and that is Alonso being somewhere at the front," he said.
At the same time, Kovalainen agreed that the balance of power is proving otherwise impossible to predict. "A good example is Monaco," said the Finn, "where McLaren is usually in charge, but suddenly they are average and Jenson Button was having to pass me. "If the tyres aren't working for you, it's finished," said Kovalainen.
Mika Salo, a former Ferrari and Sauber driver, also tipped Alonso to add a third title to his tally this year. "Their car has improved considerably," he told the broadcaster MTV3, "and now even Massa is able to drive it well. "The Red Bull guys (Vettel and Webber) are pretty close to Alonso in the championship," added Salo, "but in the long run they are fighting each other for points. "Alonso has a teammate that will not take his points in the same way."
The dark horse, meanwhile, could be Mercedes' Nico Rosberg, despite his 17-point deficit. In the last four races, no rival has scored more points than the Shanghai winner. "This shows that we are fairly consistent," said the German, "and that the future looks pretty good for us."
Source: GMM, Image: Caterham F1 Team/LAT Photographic