It was mission accomplished for HRT Formula 1 Team in Malaysia a couple of weeks ago after both cars qualified and completed their first race of the season after a hard start. The F112 accumulated many kilometres and data on the track and the engineers had a lot of information to work on during the two week period between the race in Sepang and China. Having met the team's targets last time out, HRT now aims to progress from where it left things in Malaysia and continue improving.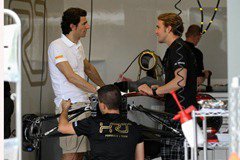 The Shanghai International Circuit is made up of sixteen turns, with nine being right-handers and seven left-handers. Cars reach maximum speeds on the 1.2km straight between corners 13 and 14, where they try and take advantage of the length of the straight to overtake. In China, the team will have a new member on board, Ma Qing Hua, who will be joining the outfit for the first time as a member of the driver development programme at his local Grand Prix.
Pedro de la Rosa: "After these first two Grands Prix we arrive in China much better prepared, with more mileage and having learned a lot, especially after the Malaysian GP. All the data gathered in the last race is very important for us, as we mustn't forget that we didn't have a preseason. Now we have a better insight on the areas where we must improve, but the most important thing in this initial stage is to finish races. That is the prime objective in order to learn and improve race by race. The hardest part comes now but we are better prepared. China is a circuit where I have always done well and a place I know well, both in dry and wet conditions. It's not a particularly hard track for the car or the driver, but aerodynamics are fundamental".
Narain Karthikeyan: "We took a step forward in Malaysia and our aim is definitely to carry the momentum into China and rest of the season. Although we managed to finish the race, cooling was still an issue at Sepang and once we have it sorted out completely we'll be able to unlock some more performance from the car. The back straight at the Shanghai circuit is of course one of the longest on the calendar and the tightening first corner is uniquely challenging since the corner entry is in top gear and by the time you exit you're in second. Plus there are a fair amount of technical slow-speed corners as well, and the high-speed direction change of turns 7/8. Given these mixed characteristics, it is a demanding circuit for traction, aero and braking stability in equal measures".
Luis Pérez-Sala, Team Principal: "The start to the season was very complicated because we were behind schedule with regards to the other teams. We had to put in a colossal effort to be able to get on track in Australia and improve our performance just one week later in Malaysia. There's still plenty to do and many areas to improve on to be where we should be but at least in these two weeks we've had a bit more time to analyse data, prepare and recharge batteries, therefore I'm confident that we're arriving in China in a much better situation. We mustn't forget that the F112 is only taking its first steps and, as of today, what we must do is progress without stopping. In Shanghai we'll have some small updates to optimize cooling and aerodynamics, and the target for this weekend is to check that these adjustments work. To sum up, we have to get more out of the car but must also improve on teamwork and coordination".
Info & Image: HRT F1 Team