Ferrari technical director James Allison insists all the rumours about Adrian Newey are not making him nervous.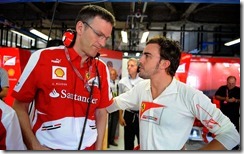 It is reported the great but beleaguered Italian team was so desperate to sign Newey it offered to fork out as much as a reported $40 million to lure him from Red Bull. As it happens, Newey apparently said no, with Ferrari team boss Marco Mattiacci denying an offer was even made. Whatever the truth, Ferrari's existing technical boss, Briton Allison, might be excused for feeling unsettled. "I only know that the team is supporting me and a lot of others as well," he insisted in Monaco on Friday, according to Italy's Autosprint.
Allison said he is being given time to have an impact at Maranello. "I only came in September, when there were only five months until the beginning of the season, with a (car) project that began two years ago," he explained. At Lotus, Allison was known for his creative and aggressive designs, and he has now been tasked with building that into Ferrari's 2015 machine. "I hope so," he smiled. "I am convinced that originality and creativity are two important factors in making a competitive car. "There is no magic recipe, but you do have to give engineers time and space to develop their ideas." However, with not only Newey linked with Ferrari but also the former technical director Ross Brawn, Allison might now fear being shuffled aside as the Italian team reacts amid its difficult 2014 campaign.
Allison responded: "I just hope that Luca di Montezemolo and Marco Mattiacci continue to seek high-calibre individuals to further strengthen the team. "I do not need to ask for more support, just the optimisation of our resources." At the same time, Allison acknowledged that finding a quick fix for Ferrari's current car is not likely. "I can say that it is very difficult," he smiled. "Making a car fast that was not (fast) in the first races is a challenge. "The problem is not only improving, but improving relative to the competition."
Image: Ferrari