Jean Todt has called for patience in the wake of critically-injured Jules Bianchi's recent Suzuka crash.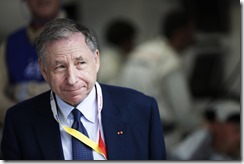 Since the Frenchman struck a recovery vehicle in controversial circumstances during the Japanese grand prix, speculation about responsibility for the crash has been widespread. The Italian press has been particularly critical. "The world has 200 countries," FIA president Todt told La Gazzetta dello Sport. "Each has its own ideas. "There was this reaction by the Italian media, but it is different in Germany and the UK," he insisted. "So let's wait for the commission." He is referring to a group he has put together to thoroughly investigate what happened at Suzuka before, during and after Bianchi's crash, and how F1 should respond. "Let's wait for the findings before judging," Todt urged.
He said some of the facts of the crash "in hindsight seem obvious, but fate can always lead to dramatic consequences," he said. "As I said after the accident: for years now we have seen terrible accidents without serious consequence. "But that was not normal. It was a miracle. We must never take anything for granted or relax when it comes to safety," he insisted.
Meanwhile, 68-year-old Todt was asked if he will seek a third term once his current tenure as FIA president expires. He answered: "I still have 39 months before me, but I am no longer a young man."