Niki Lauda wants formula one to think urgently about what is turning off the fans in 2014.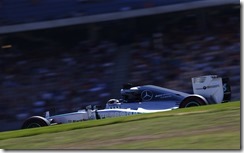 Big crowds were buzzing in Austria and Silverstone recently, but it was impossible not to notice some almost completely empty grandstands at Hockenheim on Friday and then again on Saturday. The sport's reigning champion Sebastian Vettel was born just 40 kilometres away, while another German is leading this year's title in a dominant Mercedes, within memory of the heady Michael Schumacher mania. "It's not satisfying," Mercedes boss Toto Wolff had to admit on Friday. "We have to analyse the phenomenon. If the weekend continues like it does now, we need to think about it," he said.
Italy's Autosprint quoted a F1 source as explaining that the issue this weekend is that the German public is at saturation point after world cup euphoria. But Mercedes' F1 chairman, Niki Lauda, has another theory. "Formula one is seeing a serious cultural change," he told Die Welt newspaper. "The audience wants to watch sport in a different way than before, due to the rapid growth of the new means of communication. "It is logical that the young people of today have other priorities. Everything in the world is changing, but only formula one is staying where it was," said Lauda.
The F1 legend, therefore, thinks that one big problem is too many and complex rules, but also the fact that Bernie Ecclestone is steadfastly sticking to the old TV broadcast model. "Young people do not want to stay at home on Sunday when the sun is shining to sit in the lounge with their father for two hours. "The problem is that today, there is no alternative. You can't just sit on the beach and watch the race highlights on your smartphone," he said.
Lauda also said F1 has simply lost some of its appeal on the human level. "We have a generation of drivers that, if they were not wearing their racing overalls, you would simply walk past some of them and not notice," he said, referring to the general lack of "charisma" compared to the past. "The 'formula one system' is to supervise, monitor, regulate. But we must again have the drivers, not the bureaucrats, in the foreground. "If we continue like this, no one will be bothered about formula one anymore. It's five minutes to twelve," Lauda warned.
Image: Mercedes GP