Niki Lauda only knew about Mercedes' secret tyre test at Barcelona in May once "the wheels were turning".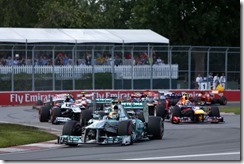 That is the claim on Wednesday of the respected Auto Motor und Sport correspondent Michael Schmidt, as F1 braces for the first ever hearing of Jean Todt's new international tribunal.
Reportedly armed with lawyers and engineers of the Brackley based team, the sole Mercedes chief deployed to Paris on Thursday morning will be Ross Brawn, after a spokesman confirmed that Lauda and Toto Wolff will not be there.
After a disappointing first three years of the 'works' F1 foray, the Austrian pair are the new faces at Mercedes, and both shareholders. There has been speculation Brawn will be the scapegoat, or fall guy, with former McLaren technical director Paddy Lowe already at work at Brackley, and earmarked to eventually succeed Brawn. "It was my decision to do the test, so that's a fact," Brawn told reporters in Canada recently. "Let's see what occurs at the tribunal and go from there."
Schmidt reported on Wednesday that Lauda, the triple world champion and Mercedes F1 chairman, first heard about the highly controversial Barcelona test "when the wheels were already turning". He added that Lauda's deputies insisted that permission had been sought for the use of the 2013 car.
Info: GMM, Image: Mercedes GP