Williams will not reveal its new Martini livery in Bahrain.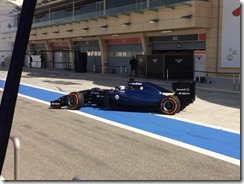 Earlier this week, Germany's Auto Motor und Sport said the official wraps would come off the highly-anticipated partnership in the second week of testing in the island Kingdom. But that is not the case, Speed Week correspondent Mathias Brunner insists. "The speculation was a bit short-sighted," he said. "Alcohol advertising is frowned upon in Arab countries." For instance, Sauber has removed the name of its tequila sponsor for this week's running, replacing it with a 'hot sauce' brand within the same Mexican stable.
So the Martini deal will be revealed in Melbourne in grand prix week, probably the Wednesday or Thursday, Brunner said. It also emerges that Williams will revamp its usual 'S' logo tribute to mark the twentieth anniversary of the death of Ayrton Senna. Ever since the great Brazilian was killed at the wheel of a Williams in 1994, the British team has carried his familiar logo on the front wing supports. "Together with the Senna family, we're creating a new logo to use on our car this year," Brazil's Globo quotes deputy team boss Claire Williams as saying.
Info: GMM, Image: Williams