Staff wearing Marussia team shirts were spotted on Wednesday in the Abu Dhabi paddock.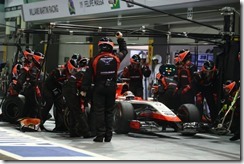 The sightings, believed to be Ferrari personnel ready to work on the embattled team's customer engines, coincided with rumours Marussia is in fact making its way to the region in the hope of racing this weekend. Garages in the Yas Marina Circuit have also been allocated to Marussia, should they arrive in Abu Dhabi in time with the funding to race.
Already in Abu Dhabi is Caterham, who like Marussia sat out the Austin and Brazil race weekends amid their financial administration. But a controversial crowdfunding scheme has got Caterham back up and running for the final race of the 2014 season.
Although Bernie Ecclestone denounced the scheme recently, he told the BBC on Wednesday that he in fact helped Caterham in its fight for survival. "They wanted to go (to Abu Dhabi), so we've transported them at no cost to them," said the F1 supremo. "We've at least helped them to some degree, something we need not have done. We've even chartered another plane to take them. We've gone a little bit over the top, but anyway, we've done it," the Briton added.