Marussia looks set to revert to a two-car operation in the wake of the Russian grand prix.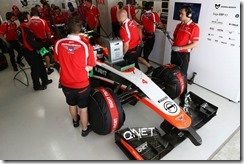 After Sunday at Sochi, where Max Chilton went it alone while the seriously injured Jules Bianchi's sister car sat dormant, Briton Chilton admitted it had been "an incredibly tough week" for the entire team. Boss John Booth is still at Bianchi's hospital bedside in Japan, leaving Graeme Lowdon to deny rumours late on Sunday that Chilton had retired after just ten laps at Sochi because he was overcome with grief.
Despite Marussia's contractual obligations, Bernie Ecclestone and the FIA allowed the team to sit Bianchi's car out in Russia out of respect for the stricken Frenchman. It was however a risk to not run the second car in Russia, given Marussia's lucrative ninth place position at present in the crucial constructors' standings. "It's a very important position for us," agreed Lowdon, "and we're largely in that position because of Jules. "We thought that the right thing to do was to come here, take part in the event but as a mark of support to Jules and as a mark of respect to his mum and dad and to Jules' family we would withdraw the second car," he added.
It is likely, however, that Marussia will now revert to a two-car operation for the decisive last three grands prix of the season, starting with Austin early next month. Bianchi's crash came at the worst possible time for Marussia, with the backmarker team struggling financially.
The Times reports that main investor Andrey Cheglakov, a Russian, was at Sochi for the inaugural race but there is "no word" as to whether he will keep the team alive for another year. Defending ninth place in the championship from the similarly-struggling Caterham appears to be the team's best play. "The best thing we can do for Jules and the family is to really try to protect the position in the championship he gave us," said Lowdon. "It (Monaco) was a really great drive and that got us something really valuable in sporting terms," he is quoted by the Mirror.
Chief engineer Dave Greenwood also hinted that Marussia, likely to field its Californian reserve Alexander Rossi, will be back on track with two cars in Austin and beyond. "At some stage we will need to look ahead to the remaining races of the season, but for now, we're pleased to be heading home," he said on Sunday.