Lewis Hamilton confirmed on Thursday that, after their relationship hit a high-profile low in Monaco, he and teammate Nico Rosberg are now "friends" again.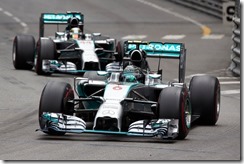 After his Monaco fury, Briton Hamilton issued a 'tweet' last week that suggested their row was now over, but some wondered if the 2008 world champion had in fact drafted the message himself. He told reporters in Montreal: "There's not really much to say. I said it in my (Twitter) message. "We spoke after the race and just like friends we have our ups and down, we've known each other a long, long time, so it's done and dusted", Hamilton added. On Thursday, Hamilton and Rosberg sat side by side during an autograph session with fans at the Circuit Gilles Villeneuve, and the previous night they both attended a team dinner in the city.
Rosberg wrote in his Daily Mail column: "I am quite neutral about my relationship with Lewis Hamilton. "Our strength is that we always talk about what has happened and go through things as we did when we were both 14." The German suggested he is prepared to keep his relationship with Hamilton amiable for the sake of the "team spirit" at dominant Mercedes. "Everybody in the team knows that being successful depends on getting every detail right. One of those details is the team spirit and we are enjoying our success but also working hard to keep our feet on the ground," said Rosberg. However, Rosberg acknowledged to reporters in the paddock that his relationship with Hamilton, who accused him of sabotaging his qualifying lap in Monaco, is now "more difficult".
But he also said: "You (reporters) are all trying to build it into a war which I can understand because it makes it all the more exciting but I want to try and avoid putting extra fuel on it. "I was in the factory this week talking to everybody and for them the constructors' (championship) is so important so if we take each other out, for all our team members that would be a disaster. "In the end we are a team and I do think about everybody else too," Rosberg added.
However, according to Hamilton's last teammate Jenson Button, only those behind closed doors at Mercedes will really know the state of the drivers' relationship. "You've got to be very careful with what you say about your teammate," he is quoted by the Telegraph. "You might say it in a jokey way but it's taken seriously. "Maybe they are fine, maybe they have sorted it out face to face," said Button.
Image: Mercedes