The new F-Duct system invented by Mercedes which is working simultaneously with the DRS system has been given green light by FIA.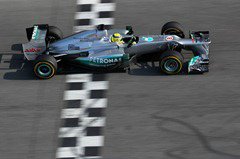 Mercedes AMG Petronas has stirred up interest from its rivals throughout pre-season testing after the word of of an F-Duct incorporated in the rear wing got out.
  The Brackley-based team lead by Ross Brawn has developed a system that helps the air circulation through the sides of the rear wing when the driver activates the Drag Reduction System (DRS). With this new system, the rear wing becomes more stable in the race and the car gains more speed on the straight lines, thus adding extra usefulness to  the DRS system.
  Many teams have seen the system as illegal since the pilot must activate the DRS system first but Charlie Whiting, the head of the FIA's F1 technical department has declared that the F-Duct innovation is completely legal and has nothing to do with the driver actions.
  "Some teams are questioning it on the basis that they thought F-ducts were banned. Well, F-ducts are not banned. At the end of 2010 everyone was using driver operated F-ducts and the regulations that were changed specifically banned the use of driver movement to influence the aerodynamic performance of the car – that got rid of that generation of so-called F-ducts" explained Whiting for Autosport publication.
  He refused to get into details about how exactly the Mercedes system works but he was was sure to mention that is legal and the driver does not have any control over that F-Duct.
  "What it appears some teams are doing is that when the DRS is operated, it will allow air to pass into a duct and do other things," he explained. "That is all I can say – you will probably have a pretty good idea of what it might be doing, and other teams will as well. But it is completely passive. There are no moving parts in it; it doesn't interact with any suspension. No steering, nothing. Therefore I cannot see a rule that prohibits it."
Info: Autosport Image: Mercedes