Monaco was a victory for Nico Rosberg not only on the track, but also in the mind.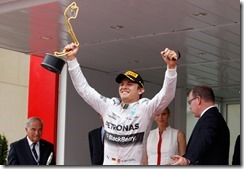 That is the view of Felipe Massa, who in 2008 only just lost the battle to Hamilton when the Briton won his sole title. "He's a guy who needs to be perfect on the psychological side," Brazilian Massa is quoted by Totalrace, "otherwise there is the chance of him making mistakes. "He lost in 2007 because he lost the car in China, also in Brazil. It was his mistakes," the former Ferrari driver explained. So Massa thinks Hamilton's reaction to the events in Monaco, where he missed the chance at pole position due to Rosberg's controversial mistake, is a big victory for the German. "If Rosberg did that on purpose then that is not something that is part of my mentality," said Massa. "But without a doubt it is something that could hurt Hamilton on the psychological side and end up being good for Rosberg."
However, Hamilton's previous F1 teammate, Jenson Button, doubts Rosberg will get the mental upper hand that easily. He recalls beating the sister McLaren in the past, prompting Hamilton to be "quite outspoken and emotional" immediately afterwards. "And the next race he would destroy me," Button said. "He would arrive at the next race very quiet and then go and blitz it. He will do the same in Canada. "The mind games people play on him will not work." Qualifying aside, there were plenty of 'mind games' at play in Monaco.
Hamilton made his foul mood with Rosberg clear by complaining about the noise outside his quarters by the German's kicking of a football with his trainer Daniel. And the 2008 world champion initially refused to appear for the post-race Mercedes victory photo, until it was reportedly made clear to him that his snub was also against the waiting Daimler chairman Dieter Zetsche. "Perhaps he was in the toilet," joked Sport Bild correspondent Bianca Garloff, referring to Hamilton's excuse for not attending a post-qualifying team briefing. And Hamilton also did not attend Thursday's pre-practice briefing, telling reporters he "overslept".
Rosberg is also guilty, reportedly not inviting Hamilton to his forthcoming wedding, and after the Spanish grand prix reacting furiously when it emerged that Hamilton had won by using a forbidden engine setting. "On the Sunday in Barcelona we had some emotions from the other side; Nico felt aggrieved by what had happened, which is understandable," said team boss Toto Wolff. It is understood that Hamilton and Rosberg have been told, and will be told again, that if their rivalry spins out of control, Mercedes may have to resort to 'team orders'. The big 'no-no' is a crash. "And the one who is to blame will have big trouble from the top management of Mercedes," team chairman Niki Lauda told Germany's Bild newspaper. "We must be careful that it doesn't get out of control."
But in the wake of the Monaco trouble, the driver duo insists they remain in control. "I am sure when we turn up in the next place (Canada) we will be as professional as ever," said Hamilton. And Rosberg added: "There is a psychological battle now, but there always has been since we were 13. "His attitude over the weekend did not surprise me. It is hard to be amazed by someone you've known for that long. We had some very difficult times in karting and things always calmed down and we moved forward."
Image: Mercedes