Alonso puts Ferrari on the spotlight as he edges Hamilton for P1.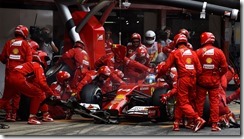 It was a boring wet practice two session here in Monaco with just Valtteri Bottas going out for one installation lap in the first 40 minutes, but as the track started to dry out more drivers ventured out and we saw Jean-Eric Vergne being the first one to put the slick tyres followed by the Sergio Perez and Nico Hulkenberg.
In the last minutes of the session all the major players went out on the softer tyres and it was Alonso who set the fastest time of 1:18.482s followed by Lewis Hamilton at some 0.4s behind and Sebastian Vettel came third for Red Bull with 0.5s off the pace.
Unfortunately Raikkonen had a gearbox problem and had to return to pits after just 4 laps and the only other driver in trouble was Marcus Ericsson from Caterham who almost destroy his car in the last bend before the tunnel entry.
| | | | | |
| --- | --- | --- | --- | --- |
| Pos. | Drivers | Teams | Time | Laps |
| 01. | 14 – Fernando Alonso | Scuderia Ferrari | 1:18.482 | 15 |
| 02. | 44 – Lewis Hamilton | Mercedes AMG Petronas | 1:18.901 | 12 |
| 03. | 01 – Sebastian Vettel | Red Bull Racing | 1:19.017 | 15 |
| 04. | 25 – Jean-Eric Vergne | Scuderia Toro Rosso | 1:19.351 | 14 |
| 05. | 77 – Valtteri Bottas | Williams Martini Racing | 1:19.421 | 9 |
| 06. | 11 – Sergio Perez | Sahara Force India | 1:19.668 | 9 |
| 07. | 27 – Nico Hulkenberg | Sahara Force India | 1:19.712 | 10 |
| 08. | 22 – Jenson Button | McLaren F1 | 1:19.721 | 16 |
| 09. | 03 – Daniel Ricciardo | Red Bull Racing | 1:19.779 | 11 |
| 10. | 20 – Kevin Magnussen | McLaren F1 | 1:20.230 | 16 |
| 11. | 19 – Felipe Massa | Williams Martini Racing | 1:20.394 | 8 |
| 12. | 26 – Daniil Kvyat | Scuderia Toro Rosso | 1:20.622 | 13 |
| 13. | 99 – Adrian Sutil | Sauber F1 Team | 1:20.811 | 8 |
| 14. | 13 – Pastor Maldonado | Lotus F1 Team | 1:20.977 | 7 |
| 15. | 21 – Esteban Gutierrez | Sauber F1 Team | 1:21.467 | 8 |
| 16. | 08 – Romain Grosjean | Lotus F1 Team | 1:21.700 | 6 |
| 17. | 21 – Kamui Kobayashi | Caterham F1 Team | 1:21.924 | 6 |
| 18. | 17 – Jules Bianchi | Marussia F1 Team | 1:21.937 | 13 |
| 19. | 04 – Max Chilton | Marussia F1 Team | 1:22.683 | 13 |
| 20. | 06 – Nico Rosberg | Mercedes AMG Petronas | 1:22.862 | 11 |
| 21. | 09 – Marcus Ericsson | Caterham F1 Team | 1:23.164 | 6 |
| 22. | 07 – Kimi Raikkonen | Scuderia Ferrari | 1:45.509 | 4 |