Nico Rosberg beat Mercedes team-mate Lewis Hamilton in a tense fight and gets his second consecutive victory for the Monaco Grand Prix.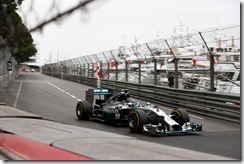 Hamilton, still angry with Rosberg tracked him for much of the race but could not find any weakness in his defense. Red Bull's Daniel Ricciardo came third followed by a distant Ferrari's Fernando Alonso in fourth.
We have to point out as the man of the race Marussia's Jules Bianchi who finished the race in eight place scoring the first points in team history.
Pos.

Drivers

Teams

Time

01.
06 – Nico Rosberg
Mercedes AMG Petronas
Winner
02.
44 – Lewis Hamilton
Mercedes AMG Petronas
+9.2 secs
03.
03 – Daniel Ricciardo
Red Bull Racing
+9.6 secs
04.
14 – Fernando Alonso
Scuderia Ferrari
+32.4 secs
05.
27 – Nico Hulkenberg
Sahara Force India
+1 Lap
06.
22 – Jenson Button
McLaren Mercedes
+1 Lap
07.
19 – Felipe Massa
Williams Martini Racing
+1 Lap
08.
17 – Jules Bianchi*
Marussia F1 Team
+1 Lap
09.
08 – Romain Grosjean
Lotus F1 Team
+1 Lap
10.
20 – Kevin Magnussen
McLaren Mercedes
+1 Lap
11.
09 – Marcus Ericsson
Caterham F1 Team
+1 Lap
12.
07 – Kimi Raikkonen
Scuderia Ferrari
+1 Lap
13.
10 – Kamui Kobayashi
Caterham F1 Team
+3 Laps
14.
04 – Max Chilton
Marussia F1 Team
+3 Laps
15.
21 – Esteban Gutierrez
Sauber F1 Team
RETIRED
16.
77 – Valtteri Bottas
Williams Martini Racing
RETIRED
17.
25 – Jean-Eric Vergne
Scuderia Toro Rosso
RETIRED
18.
99 – Adrian Sutil
Sauber F1 Team
RETIRED
19.
26 – Daniil Kvyat
Scuderia Toro Rosso
RETIRED
20.
01 – Sebastian Vettel
Red Bull Racing
RETIRED
21.
11 – Sergio Perez
Sahara Force India
RETIRED
22.
13 – Pastor Maldonado
Lotus F1 Team
RETIRED
* 17 – Jules Bianchi – will lose the 8th place to Romain Grosjean due to 5secs penalty that will be added to his time