As you no doubt know, one of the big talking points this year has been the 2012 Pirelli tyres.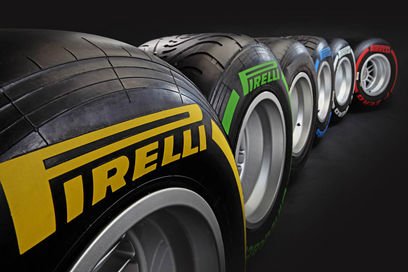 Pirelli's tyres for this season appear to degrade quicker than ever before, which has made tyre strategy so important. In fact, it is so key to teams' success that many drivers are choosing not to set a qualifying time in Q3 in Saturday qualifying just so they have a fresh set of rubber for the race.
This has been very controversial, and fans in the grandstands and watching at home are now seeing eight, seven or even six drivers taking part in the final qualifying session, instead of the total of ten drivers allowed.
So this has brought up the idea of having a Q3 set of tyres, where the rubber will only be used for that session and not the race, thus giving drivers no incentives to skip the session.
Pirelli are very keen on the idea it seems, and declare that they could supply an extra set of tyres just for Q3 right away:
"We could do it immediately. We could come up with a specific compound, or maintain the current ones. But the teams say that the format is fine as is, that the public enjoys tyre strategies. But if a fan on the grandstands doesn't see much running in Q3, then that fan casts the blame on Pirelli thinking that we don't want to spend any more money in order to supply more tyres."
Pirelli's motorsport boss Paul Hembery also denies that Pirelli have deliberatly set out to supply complex tyres that makes races more of a lottery than a competitive race:
"I don't agree with whoever says that our tyres' scope of use is too narrow: the temperatures are in line with the estimated values. What has changed, heavily, is the way these tyres are used this year. You can see that there's a lot more oversteering on the track. We also hear drivers' comments lamenting a lack of traction, but in my opinion that problem doesn't exist.

Having changed the exhaust configuration through a rule has undoubtedly made the cars less stable. That causes wheelspin and the tread heats up, so it's normal you can't use the tyre.

Another point is that nowadays the car performances are a lot closer. Last year there was a second between Red Bull and McLaren, while we've now seen in Spain 16 cars within the same second in Q2.

It's not true we have intentionally tried to create an impossible challenge. In the next tests with the Renault test car we'll verify what the teams say."
Source: Autosprint