The only tyre supplier for Formula1 in 2012 has released a press communicate announcing the tyres allocations for the next three races following China that will be held in Bahrain, Barcelona and Monaco.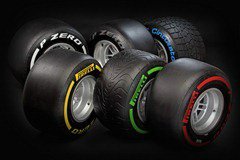 Pirelli is set on delivering the best possible combinations of tyres in order to make the races as entreating as they could be therefore each grand prix will have a different choice of tyres. In order to do that for Bahrain we will have soft and medium, for Spain soft and hard and for Monaco super soft and soft.
Pirelli has also explain the logic behind this tyres allocation: "The tyre choice for Bahrain takes into account the hot temperatures and medium-grip characteristics of the Middle Eastern circuit. The hard tyre will be seen in Spain to cope with the high lateral loads that the tyres have to deal with at the Circuit de Catalunya, coupled with the soft tyre in order to enhance the opportunities for different strategies. Monte Carlo is the slowest and most twisty circuit of the year, so the super soft makes its debut to maximise the grip available over the course of this short lap."
  Paul Hembery, Pirelli's motorsport director is confident that using the softer compounds during various races this year will make the races more entertaining: "Our nominations this year are designed to push the envelope of performance, as can be seen from our latest choices. Only the super soft tyre is the same compound as last year: the other compounds are softer and therefore faster, designed to encourage closer racing as well as a wider variety of strategies."
For China the tyre choice was published at the beginning of the season and is soft and medium compounds.
If you want to find more about Pirelli Tyres see this post here or this video presentation here.
Info: Pirelli