F1 will court further controversy this weekend when Russian president Vladimir Putin oversees the inaugural grand prix at Sochi.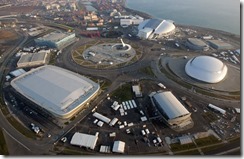 Amid the Ukraine crisis, the MH17 atrocity and tough anti-Russian sanctions imposed by Europe and the US, there had already been calls for formula one to cancel its first race in the country. But mere days after the Japanese grand prix, F1 is now busily setting up at the new Sochi Autodrom, based around the central venue of the Winter Olympic Games earlier this year.
Having skipped Japan, F1 supremo Bernie Ecclestone will be at Sochi this weekend, having travelled to the former Soviet state Azerbaijan on Tuesday to unveil the sport's next destination, the 2016 European grand prix at Baku. As for controversial Russia this weekend, he insisted: "We are happy, the sponsors appear to be happy, so we carry on. "No one has spoken to me about this race or told me that we cannot go," he told The Times. "The sanctions do not affect us and what we are doing is not illegal. "The Russian people asked us to come here and that is what we are doing. We are putting on a grand prix. This is nothing to do with politics. As I have always said, we do not do politics. "We are in Sochi to race," said Ecclestone.
Times correspondent Kevin Eason claims Putin, who is "a close friend" of Ecclestone's, will also be there. "F1 should reflect on the lack of global support for Putin's behaviour in the Ukraine," said Dr Andrew Foxall, director of the Russia Studies Centre at London's Henry Jackson Society think-tank. "If Putin appears to wave to the crowd, it will be on global television and F1 will forever be blighted by association with an authoritarian regime."