Kimi Raikkonen said his spin on the final day of testing was "not the end of the word" as he brushed off the accident that saw him finish Saturday's session in the barrier.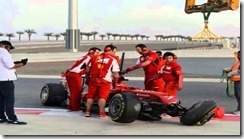 With just five minutes remaining Raikkonen lost the rear of his Ferrari on the exit of Turn Four and destroyed the nose of the car against the barriers. However, with four full days before the start of the next test in Bahrain the team will have no problems fixing the F14 T.
"I spun and crashed in the wall unfortunately," Raikkonen said. "I destroyed the car quite badly but luckily we can fix it, it's just a little bit of work unfortunately. But that's how it goes. Maybe it was me, but sometimes it happens and it's not like it's the end of the world even if people like to think it is. I just got wheelspin and went to the inside and into the wall."
Raikkonen said Ferrari would start to explore the potential of its car at the final test next week.
"I think it's not too bad. Lap time wise I don't know yet, we will have to see next week, but there are not any major issues. There are things we want to improve and we can improve, but we're just trying to understand what happens when you change things [with the set-up], what the car will do. Every car is different and it's hard to know, but we are getting some idea what we want to do. I think it's pretty okay, but for sure we want to improve and there is a long way to go."
Info: ESPN Sports Media Ltd. Image: Ferrari