World champion Sebastian Vettel has hinted crisis-struck Red Bull might have achieved more simply by staying at its factory last week.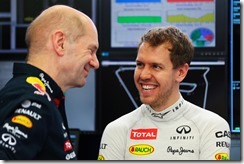 Instead, the troubled reigning champions tested alongside F1's other ten teams in Bahrain, just two weeks before the revolutionary 2014 season kicks off. "In England we could respond more quickly," Vettel admitted to Germany's Auto Motor und Sport, as the team continued to struggle with the RB10. Some insiders think Red Bull will struggle to get out of the initial 'Q1' segment in Melbourne later this month. Vettel hinted Red Bull remained committed to the final pre-season test only to help engine supplier Renault more generally get up to speed. "I think it was absolutely the right decision to come here," he said before leaving Bahrain. "It is down to us that we have not done enough."
The Austrian team, boss Christian Horner and now the German himself have denied reports Vettel recently threw a "hissy fit" when he realised the scale of Red Bull's crisis. "I'm annoyed of course that I cannot drive," he admitted. "I think it's worse for the mechanics, crawling around all day on the floor putting the car together for the umpteenth time. "But I don't see anybody getting upset, even if it is a hard time at the moment of course," added Vettel.
And at the end of the day, it might not be all bad for Red Bull — insiders at Mercedes claim that GPS data has proved that when the Adrian Newey-penned car is running properly, it is fast in the corners. "Of the few laps we have had, the feeling was pretty good," Vettel confirmed. "But I can't tell you more."
Info: GMM, Image: Red Bull Content Pool