The Spanish multinational Santander is staying at Ferrari even if the closely-aligned Fernando Alonso jumps ship.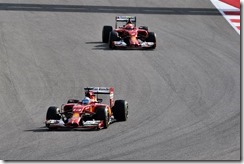 That is the claim of the Spanish sports daily Marca, reporting that the banking group has pledged to fulfil its 2017 contract with Ferrari independent of Alonso's next move. If true, it is suggested a departing Alonso might still retain some personal backing by the group, particularly as his likely destination – McLaren – has a historical connection with Santander.
Marca also claims Alonso has been in contact with Telefonica, the Spanish telcom. Separately, the newspaper claims that while Alonso is clearly McLaren-Honda's 'plan A' for 2015, the strongly Eric Boullier-linked Romain Grosjean could be the 'plan B'. Marca says Grosjean was seen entering McLaren's headquarters in the Austin paddock on Saturday accompanied by his manager Julian Jakobi. Could that be because Alonso is heading elsewhere for 2015?
Gerard Lopez, the Lotus team owner, said in Austin that he can imagine the Spaniard returning one day to Enstone. Suddenly, however, Lopez is playing down his talks with Alonso. "With Fernando … I talk a lot of football," he smiled. Lotus chief Federico Gastaldi agrees: "Unfortunately, we are far from Fernando's radar." Indeed, German television RTL claimed on Sunday that Alonso to McLaren – with a very long-term contract – is a done deal. But that comes amid persistent rumblings that Alonso is refusing to give up on trying to squeeze into a dominant Mercedes cockpit.
Even Lewis Hamilton, the Mercedes driver due to enter negotiations for a new deal with the Brackley team, is not deaf to the speculation. "Does he want my seat? I'm sure Fernando is pushing hard for my seat," the Briton is quoted by Italy's La Repubblica, "but I won't give it up. I love my car."
At the end of the day, the coolest analysis of the situation surrounding Alonso's future is that he is probably heading to McLaren. The hold-up is simply a deadlock between the Spaniard and Ferrari over the reported $50 million contractual payoff. Fascinatingly, after scoring more points for Ferrari in its defence of fourth in the constructors' standings, Alonso made a comment suggesting the team will be able to afford to pay him off when he leaves. "I'm happy to score points for the team," Spain's El Confidencial quotes him as saying after the US grand prix, "as at the end of the year it (fourth place) means tens of millions of dollars for Ferrari."