After topping the second practice in Australia the 7 times world champion Michael Schumacher was in very good spirits and told the media that the new Mercedes MW03 single-seater is easy to handle.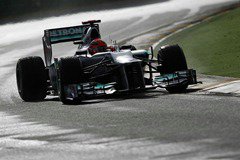 Michael Schumacher was one of the pilots who made his presence noticed after finishing the second practice of the season on the first position after being third in practice one.
  At the end of the day Schumacher said that he's happy with the results and with the way the new car is handling but he remain silent about what the results might be in Sunday race.
"We worked well at the car. It handles very well, but how much is that worth we will probably find out later this weekend. Unfortunately, the results so far are not very realistic, there are many variables that can have a big effect, so we must wait until Saturday."  said Michael.
  Nico Rosberg is equally optimistic , and he claims to have learned new things about the car features when he was running with more fuel in the tank. "Overall I am very satisfied. The new MW03 is good and we had a decent start. Conditions were mixed, but we covered some good laps on dry and we were able to learn something new and we will use that." said the German driver.