Just like two weeks ago at Monza, the 2013 'silly season' is abuzz in the paddock ahead of this weekend's Singapore grand prix.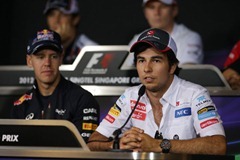 Sergio Perez was asked directly on Thursday if, having been turned down by Ferrari president Luca di Montezemolo, there is any truth in the speculation he is now near the top of McLaren's short-list to replace Lewis Hamilton. "Before it was Ferrari, now it's McLaren," the Telmex-backed Mexican, who currently races for Sauber, said. "Always when I have a good race, they (the media) put me in a different team," he added.
A straight denial sounds different. Another fancied contender for Hamilton's seat – should the Briton jump ship to Mercedes – is former McLaren driver Kimi Raikkonen. But the Finn, currently at Lotus, is not even committing to the sport at present. "You never know," he smiled. "There are a lot of other nice things to do than formula one. "Right now we have options and we'll see what happens." According to the paddock rumour sages, the 2007 title winner is no longer considered a serious contender to replace Felipe Massa at Ferrari.
Some think Force India's Nico Hulkenberg is the favourite for that job. "There is a good chance I will be with Force India next year," said the German on Thursday, "but nothing has been announced yet." Fernando Alonso sounds keener to simply keep Massa alongside him, despite those who think the Brazilian has been too weak of late. "If the team decides to change Felipe," the Spaniard insisted, "someone who arrives would have to be better. "Looking at all the names that you the media have been putting forward as a replacement, I'm not sure if you realise quite how much Felipe has achieved in formula one compared to them," added Alonso.
Info: GMM, Image: Sauber F1 Team
Find us on Facebook and Twitter for all the latest updates for the F1 2012 season