F1 on Sunday issued the strongest-possible retort to all those playing down the spectacle of the sport's new era.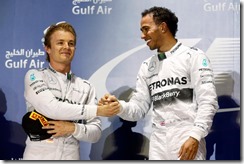 Even before the race began under Bahrain's spectacular new lights, McLaren supremo Ron Dennis was talking tough after a weekend of what he described as "whinging" about the 2014 rules. "Most of the moans are coming from uncompetitiveness," he told British television Sky on the grid, telling the naysayers: "Just get on with it and develop your car."
Undoubtedly, his comments were pointed at the likes of Red Bull, and Ferrari's Luca di Montezemolo, whose motives for talking down the sport are arguably political. Mercedes' Niki Lauda agrees with Dennis. "Everyone is fighting for his own interests," he told German RTL television. "It is known that the Ferrari engine is heavier than the Mercedes engine," the great Austrian surmised.
Granted, the spectacle in Australia and Malaysia was questionable, but even Ferrari's own Fernando Alonso pointed out at the start of the Bahrain weekend that two races into a 19-event campaign is too early for judgement. Likening F1 to football, he said: "Some matches you watch are 0-0 and it's terrible and then the next week you see 5-4 and enjoy the game so much." Sunday in Bahrain was 5-4. There were wheel-to-wheel battles throughout the field on every single lap, but the jewel in the crown was the extended fight for victory between Lewis Hamilton and Nico Rosberg.
Team boss Paddy Lowe even tried to impose team orders to ensure an orderly one-two, but Lauda laughed afterwards that the feisty silver-wearing teammates "ignored" him. "I think today was a day for the sport," said German Rosberg, who although ultimately defeated nonetheless excitedly embraced Hamilton in celebration of a much-needed boost for F1. Lauda said Sunday made those calling F1 boring look like "idiots", with Mercedes adding on Twitter: "It's absolutely official — F1 2014 kicks ass!"