The worried world of F1 is still waiting for more news about Jules Bianchi.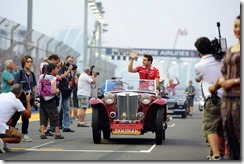 While protagonists argue about the rights and wrongs of his terrifying collision with a recovery vehicle on Sunday, the talented 25-year-old remains critically ill in the Mie hospital about 15 kilometres from Suzuka.
Livio Oricchio, the respected correspondent for Universo, claims Marussia telemetry shows Bianchi struck the vehicle at a speed of 203 kilometres per hour. "The situation is really serious. Very serious but stable," FIA spokesman Matteo Bonciani said at the hospital late on Monday when asked about Bianchi's condition, according to France's RMC. "I am doing this update on behalf of the family," he added.
Bianchi is managed by Nicolas Todt, the son of FIA president Jean Todt whose doctor friend professor Gerard Saillant is now en route from Paris to Japan. Arriving at the hospital on Monday was Bianchi's parents. "Tomorrow," Bonciani added, "the family will see all the doctors and have all the information."
With official information scant, it is believed Bianchi is lying in intensive care in an artificial coma after surgery for subdural hematoma. It is also believed the Marussia driver is attached to an artificial respirator. Germany's Welt newspaper claims Marussia chiefs John Booth and Graeme Lowdon both cancelled their scheduled flights to Sochi to remain in Yokkaichi with Bianchi.