A text message sent from Michael Schumacher's home in Switzerland reduced Ferrari boss Maurizio Arrivabene to tears after the Malaysian grand prix.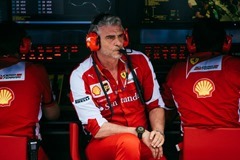 After a tumultuous period for the great Italian marque, seven time world champion and Ferrari legend Schumacher's protege Sebastian Vettel broke through with a landmark and emotional win. But Arrivabene, who worked with Ferrari during the Schumacher era as an executive for the team sponsor Marlboro, said he felt in control of his emotions after Vettel's win. "I was trying all the time to stay cool," the Italian told Sport Bild. "But then a text message made me cry."
The German magazine said the text was from Sabine Kehm, Schumacher's manager, who had reportedly watched the Sepang race at the house of her 46-year-old client, and at the side of Schumacher's wife Corinna. Schumacher suffered brain damage in a skiing fall late in 2013, and has not been seen publicly since.
Arrivabene has admitted he sees striking similarities between Vettel and his German compatriot Schumacher. "When I noticed it for the first time," he admitted, "I was very emotional. "They have different natures, different personalities," said Arrivabene, "but the way Sebastian approaches his work – delving into every detail of how he can motivate everyone and criticise constructively – reminds me of Michael. "Both share the same cultural background and this perfectionism, which they have brought to Ferrari," he added.