Toto Wolff has described as "surprising" reports team boss Ross Brawn has decided to leave Mercedes.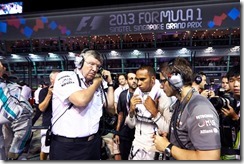 The reports said Brawn told chairman Niki Lauda of his decision in Korea last weekend, but both men have denied the news. Wolff, who is Mercedes' motor sport director, told German-language Spox: "We are all involved. "Ross Brawn has some ideas for his future, as we as a team want to develop together with him. We are in constant discussions. "But there was no news in recent days — not even internally. So it is somewhat surprising that something is coming out now," he insisted.
Wolff denied the suggestion that the real story is that Brawn is pushing to exit because his successor Paddy Lowe is already looming. Mercedes, on the other hand, is insisting Brawn respect his contract. "No, not at all," said Wolff. "There is no question of observing contracts or that Ross Brawn wants to change. "There is a common discourse, all in the best interests of the team and the people involved," he added. Nonetheless, the rumours continue.
Spain's sports newspaper AS said Brawn moving to Honda could be Fernando Alonso's trigger to finally accept McLaren's recent flirtations. New Honda motor racing chief Yasuhisa Arai told British broadcaster Sky this week the Japanese carmaker wants "good drivers, (a) good team and good organisation" ready for its 2015 return. "Those things have to be ready, have to be right, in order to have a good start," he added.
Info: GMM, Image: Mercedes GP