More alarming news about the health of the ailing F1 backmarker Caterham has emerged.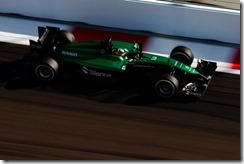 The posts have now been deleted, but race driver Kamui Kobayashi reportedly admitted on Facebook recently that he considered pulling out of the Russian grand prix when Caterham ran out of spare parts. He posted a photo of broken suspension on his car at Sochi that was repaired rather than replaced. "It's checked all the time but, even so, being asked to race like this is too scary! I want to go home already," the Japanese said, according to the BBC.
The 28-year-old driver's manager Chikara Funada confirmed that Kobayashi had written the posts, which were at his private Facebook page and not a public profile.
Earlier this month, bailiffs seized items from Caterham's Leafield headquarters, in the wake of founder Tony Fernandes' exit and the arrival of Swiss-Middle Eastern owners represented by new team advisor Colin Kolles. Now, it emerges that the company that designs and builds the team's F1 cars, Caterham Sports Limited, has been placed into a process of insolvency.
Finbarr O'Connell, working for the firm Smith and Williamson, told the Telegraph: "As administrator I control the machines they are working on, the computers, the factory, the intellectual property. "If I don't do a deal with 1MRT (the Caterham F1 team) then they (staff) will have nothing to work on and their jobs could be at risk," he revealed.
It is believed the plan of Caterham's new management is to relocate the entire operation, possibly to Kolles' Greding facility in Germany, where the Romanian based his F3 and Le Mans projects. "For avoidance of any doubt," team boss Manfredi Ravetto said last week, "I'd like to add that Leafield remains the team's base, even though it's no secret that we are looking for a more suitable alternative. "We look forward to the final three races of the season, we will keep fighting, we will keep improving and we will introduce some positive surprises."