Marussia on Wednesday hit back at media reports suggesting the team and Jules Bianchi were to blame for the Frenchman's life-threatening crash at Suzuka.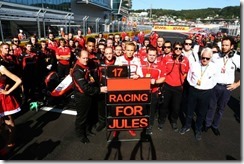 The reports had suggested Bianchi, who is still fighting for his life in hospital in Japan, did not slow down for the double waved yellow flag zone before losing control and violently striking a recovery vehicle. Also alleged is that, at the time of Adrian Sutil's crash, Marussia officials urged Bianchi to drive faster in order to keep Caterham rival Marcus Ericsson behind.
In a statement on Wednesday, Marussia said it is "shocked", "angered" and "distressed" by the reports, particularly when Bianchi is still "critically ill". The team insists the allegations are "entirely false". "Jules did slow down under the double waved yellow flags," said Marussia. "That is an irrefutable fact, as proven by the telemetry data, which the team has provided to the FIA."
The team also says recordings of the radio traffic between the pitwall and Bianchi make "quite clear" that engineers did not make "any comments" suggesting the driver should "drive faster". "The team sincerely hopes that, having clarified these facts, it can now avoid any further distractions to its primary focus at this time, which is providing support for Jules and his family," the Marussia statement concluded.