Jules Bianchi's father has revealed the medical condition of his son remains "desperate", more than a week after his Suzuka crash.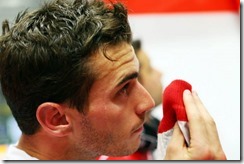 Philippe's comments to the Italian daily La Gazzetta dello Sport preceded an official update from the family of the seriously injured Marussia driver. In a statement distributed by the F1 team in conjunction with the Mie hospital, the family said "a number of medical challenges have needed to be overcome" since the 25-year-old slammed into a recovery vehicle during the Japanese grand prix.
Germany's specialist Auto Motor und Sport claims the mandatory G-force sensor located in Bianchi's earplugs recorded an incredible 92G impact.
The report said the neck cowling around Bianchi's head was later located near the destroyed car's engine compartment, while the near-indestructible monocoque was cracked from the bulkhead to the cockpit.
Philippe said: "His doctors have told us this is already a miracle — no one has ever survived such a serious accident. "Everyone keeps asking me how Jules is but I can't reply, there is no answer," he told the newspaper. "One day he seems a bit better, other days a bit worse. The damage from the accident is very bad but we don't know how it will evolve. "Every time the phone rings we know it could be the hospital to say Jules is dead," Bianchi's father admitted. "When Jules gets a bit better we can transfer him, maybe to Tokyo and things will be a bit easier," he added. "But who knows when that will happen — if it will happen. We have no certainties, we just have to wait."