Plans are racing ahead for a grand prix in Azerbaijan, an oil-rich former Soviet state at the crossroads of Asia and Europe.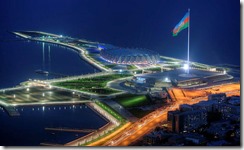 A year ago, Bernie Ecclestone stunned F1's headline writers when he first mentioned the capital Baku as a potential host for the sport. "They are talking about 2015," he said in March of this year. "That is a possibility but 2016 is more likely." Indeed, the Olympic games-themed website 'insidethegames.biz' claims a deal for 2016, with the race to be called the European grand prix, has now been reached.
Azerbaijan will also host the inaugural European Games next year. The report said the F1 race will take place on a city street circuit, such as the 4.4 kilometre layout that already hosts an event around Baku for GT3 cars. "We have signed the deal with Bernie Ecclestone and will announce it officially with an event in Baku shortly," Azerbaijan sports minister Azad Rahimov is quoted as saying. And a spokeswoman for the sports ministry, Samaya Mammadova, confirmed the news to the Azerbaijan news agency Trend.
Meanwhile, Ecclestone has flagged the possibility of a return to India, after the Delhi round was axed for 2014 over bureaucratic, tax and financial hurdles. "They (race organisers) just need to come here (London) and sort out the existing contract," the F1 chief executive told the Indian news agency PTI. "Though the race promoters have not said when they will come over, we are constantly talking and they look very eager to get the race back. I am also confident that all financial issues will be sorted out and India will be back on the calendar," Ecclestone added. "As I have said in the past, India is an important market for formula one. I really want to see the race return."