Lewis Hamilton on pole position at Bahrain Grand Prix, Vettel has to settle for 2nd place.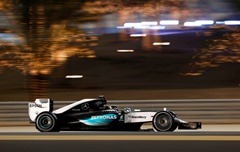 Lewis Hamilton took his fourth straight pole position in 2015 beating Sebastian Vettel in Bahrain Grand Prix qualifying.
The Britton was 0.411s faster than the German driver while the second Mercedes of Nico Rosberg could manage only third closely followed by Kimi Raikkonen.
Williams's Valtteri Bottas and Felipe Massa were 5th and 6th.
Ferrari have shown stronger race pace than Mercedes in practice and the Bahrain race winner could be decided on which team can make their tyres last best.
| | | | | |
| --- | --- | --- | --- | --- |
| Pos. | Drivers | Teams | Time | Laps |
| 01. | 44 – Lewis Hamilton | Mercedes AMG Petronas | 1:32.571 | 16 |
| 02. | 01 – Sebastian Vettel | Scuderia Ferrari | 1:32.982 | 12 |
| 03. | 06 – Nico Rosberg | Mercedes AMG Petronas | 1:33.129 | 16 |
| 04. | 07 – Kimi Raikkonen | Scuderia Ferrari | 1:33.227 | 15 |
| 05. | 77 – Valtteri Bottas | Williams Martini Racing | 1:33.381 | 16 |
| 06. | 19 – Felipe Massa | Williams Martini Racing | 1:33.744 | 16 |
| 07. | 03 – Daniel Ricciardo | Red Bull Racing | 1:33.832 | 15 |
| 08. | 27 – Nico Hulkenberg | Sahara Force India | 1:34.450 | 15 |
| 09. | 55 – Carlos Sainz | Williams Martini Racing | 1:34.462 | 18 |
| 10. | 08 – Romain Grosjean | Lotus F1 Team | 1:34.484 | 20 |
| 11. | 11 – Sergio Perez | Sahara Force India | 1:34.704 | 12 |
| 12. | 40 – Felipe Nasr | Sauber F1 Team | 1:34.737 | 9 |
| 13. | 09 – Marcus Ericsson | Sauber F1 Team | 1:35.034 | 9 |
| 14. | 14 – Fernando Alonso | McLaren Honda | 1:35.039 | 10 |
| 15. | 33 – Max Verstappen | Scuderia Toro Rosso | 1:35.103 | 14 |
| 16. | 13 – Pastor Maldonado | Lotus F1 Team | 1:35.677 | 7 |
| 17. | 26 – Daniil Kvyat | Red Bull Racing | 1:35.800 | 6 |
| 18. | 28 – Will Stevens | Manor F1 Team | 1:38.713 | 6 |
| 19. | 98 – Roberto Mehri | Manor F1 Team | 1:39.722 | 6 |
| 20. | 22 – Jenson Button | McLaren Honda | no time | 1 |