A trio of former F1 drivers are hoping the 2015 season opener was just a blip.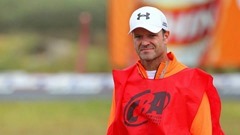 In Australia, Sauber battled for survival in court with Giedo van der Garde while Manor never left the pits, before the smallest field in recent memory set the scene for what Daniel Ricciardo called a "boring" race as Mercedes utterly dominated.
Afterwards, Red Bull threatened to quit in protest of the technical regulations, leaving F1 experts and pundits to wonder if the fundamentals of the sport are broken. "I tried to watch, but I got to a point when I couldn't stay awake," Rubens Barrichello, the longest-serving driver in F1 history, admitted to Brazil's Globo.
Former Renault driver Nelson Piquet jr added: "I didn't see the race, but I heard about it and it was a shame that only 15 or 16 cars started. "It's a shame formula one is at that level. We want it to be back again when it was competitive, with many very strong cars."
Finally, former McLaren driver and long-time commentator John Watson told the Daily Mail: "The sport, whether it is the governing body, the FIA or CVC, need to sit down and say 'What are we doing? What are we trying to achieve? "And are we achieving it?"